Overview
With the number of devices rising on a daily basis, the need for backing up data has become very pertinent. Some people still find it safe to have their data on physical hard drives than virtual ones. With this Toshiba Canvio Connect II 2 TB Hard Drive, you are sure to have great experience of storing data without fearing any kind of loss. One of its features is the plug-and-play function. It helps in quick access, transportation and sharing of data. You can also schedule an automatic back-up that automatically runs and creates a back up of your data. It also supports streaming of the digital content directly to your device. You can now shop online for it at a reasonable price on Snapdeal.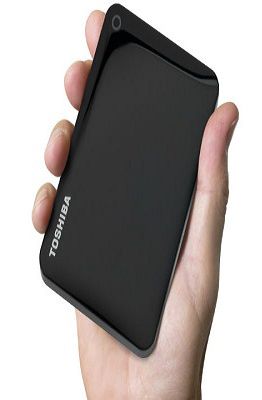 Large Storage Capacity
This Toshiba Canvio Connect II 2 TB Hard Drive offers adequate space for storing all your data and files at a single place. Its huge storage capacity of 2 TB makes it a must have product for the professionals who require constant storing of data. It can store all your memorable moments in one place so that you can relive the moments. Hard disks are portable and therefore are one of the most convenient ways of carrying the data. With the help of this product, you will not have to carry your laptop every time, in case you need to share the data present in it.
Back-up and Cloud Storage
This Toshiba Canvio Connect II 2 TB Hard Drive provides up to 256-bit data encryption that keeps all your files password-protected and will also prevent it against the unauthorised access. The 'Restore Button' helps you to quickly recover lost data. There are pre-loaded NTI Backup Now EZ software that results in full system backup and recovery. In addition to these features, it also gives you 10 GB free extra space in the cloud for your important backups that will remain safe forever. This storage can be expanded beyond the free 10 GB.
System Requirements
This portable hard drive from Toshiba is compatible with Microsoft Windows 7, 8, 8.1 (Formatted NTFS), Windows 10 and Mac OS X v10.9/ v10.8/ v10.7/ v10.6.6/ v10.6.8 (NTFS Driver Included).

Overview
Brand
Toshiba
Series Name
canvio connect ii
Capacity
2 TB
Connectivity
USB 3.0
Color
Black
External Power Supply
Yes
Rechargeable Battery Included
No
Warranty
3 Years
OS Compatibility
Windows
Dimensions in cm(LBH)
78 x 109 x 19.5 mm
Weight (In Grams)
231
Sales Pacakage Content
Hard Disc